To ensure that you guys fully extract the entire archive I made it into an sfx archive. So no, it's not an installer. It's just an executable version of a winzip file and it simply extracts the contents for you so there is no chance to make a mistake when extracting the files. Just run it and hit the extract button after choosing the right folder to extract to.

Doom 2D
Alpha 0.1.01 (11/28/2007)

Credits:
Everything is by me, Ilya Seletsky, except for the stuff I mention below
Game Maker tool: Mark Overmars
Platform Engine: Originally made by Jenner until I heavily modified it
All the sounds and music: id Sodtware and Team TNT
All the ideas and stuff: id Software
Original Graphics (Also includes all fonts and status bar stuff): id Software
And the most important of all...
The original awesome game called Doom: id Software
About the game:
This is going to be one of the most awesome Doom 2D fan games ever. I even made my own sprites for it to ensure that the game looks good, unlike most people who just rip the sprites from Doom and scale them down which usually looks horrible. Besides the Doom sprites aren't very good for using in a platform game because they only have 4 walking frames and you can't see the awesome animations I made for all the weapons.
Anyway, it's gonna have its own story and some new enemies of my own making. I might possibly add some new weapons as well.
I can rip any resource I want from all the Doom games, Ultimate Doom through Final Doom... I probably won't rip from Doom 3 though although I could do that too if there's some cool resource in Doom 3 I need. I won't have any trouble getting the sounds and music I want, while the graphics are mostly gonna be remade by me to ensure they look good in a platform game.
Controls:
Jump: W
Walk Left: A
Walk Right: D
Duck: S
Fire Gun: Left Click
Screenshot: F9
Quit Game: F10
Bring Up Menu: Escape
Number keys select the weapon slots.
1: Fist/Chainsaw
2: Pistol
3: Shotgun/Super Shotgun
4: Chaingun
5: Rocket Launcher
6: Plasma Gun
7: BFG 9000
To start a new game, bring up the menu and select new game. Then select campaign, seeing as that is the only working option. After that you can choose from the 5 difficulty levels. Unlike in the original Doom, Nightmare difficulty just makes the player take twice the damage than normal instead of all that crazy stuff that goes on. This way the difficulty level is actually playable.
Things to add and fix:
- More Enemies
- More items
- More tiles
- More level objects
- Sometimes projectiles go between wall edges so it looks like they are going through the wall, damn collision_line() doesn't seem to detect the collision right between sprite edges...
- Make the level editor faster (It's coded sooo sloppily!!!!!)
- Make it clearer what weapon you switched to by adding a little quick text thing
- And of course everything else, such as monsters and UI and everything else still missing
- Make all the splash screens, such as title, victory, end level( Stuff like that) So far they are just place holder images.
- Make the intermission screen between levels show all stats, like kill%, time taken to beat the level, all the other good stuff...
- Make the menu fully functional, so far only like 10% of the buttons do something.
Changes:

11/28/07:
- Fixed a tiny thing in the executable that I forgot to change back when releasing the alpha. It now shows the intro text talking about the alpha version instead of going to level 1 right away when starting a new game...
11/26/07:
- The game is now an alpha release and no longer an engine demo. This means I added quite a bit of new stuff…
- Made game play demos recordable and playable. The format will undoubtedly keep changing as I add more and more stuff to the game.
- Made all weapons fully functional.
- Added a second level just for fun.
- Made the game "work". It loads the level packs and stuff, shows the title screen, has a working menu that's now more or less fully functional. This is what helped graduate the game to alpha version status.
- Made level pack loading work. So far it's just hard coded into the game to load the default pack. Later I'll add it so you can load your own custom level packs.
- Added a menu, only about %10 of it works so far though…
Screenshots
These are screenshots of what the game currently looks like.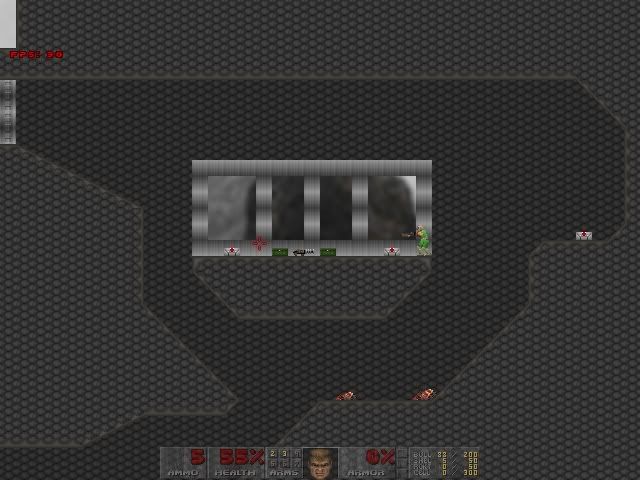 There are screenshots of a while ago... Fairly new I guess...
Killin Some Fools
Some Fairly Cool Tiles
These are screenshots from the second released engine demo.
The level editor (with a tileset from a totally different game) (old)
That same level in the game (old)
These are screenshots of the very first release just showing off the weapons and stuff
Firing BFG 9000 (old)
Chainsaw!!!!! (old)
The Download
And no it's not an installer. Read the very top of this post for clarification.
----Most Recent Update-------
----10/13/07-------
Download Link
-------10/8/07 update---------
Download Link
-------9/3/07 update----------
Download Link
-------8/21/07 update---------
Download Link
-------8/17/07 update---------
Download Link
Code to put the Doom 2D banner and link into your signature
Here's the code to put into the signature to make it appear and link to this topic just like the one in my signature.
[url=http://gmc.yoyogames.com/index.php?showtopic=321527][img]http://i55.photobucket.com/albums/g157/ill_stuff/banner-1.jpg[/img][/url]
Edited by Potnop, 06 October 2008 - 08:28 AM.