ShellBlast is now $4.95 through January 1st!
ShellBlast v1.3


by Mr.Chubigans
Yes, this is indeed the first commercial game I've worked on. It's based off of Acidbomb and Acidbomb 2, for those who've played them.
I've put a LOT of work into it, and I think it is definitely the best game I've made so far...more so than Sandbox of God or anything else (though that's ultimately up to you to decide.
)
Described as a cross between Minesweeper and Picross, the objective of ShellBlast is simple: using a series of tools, defuse the bomb before it blows up. Of course, the further you progress, the more advanced the bombs get…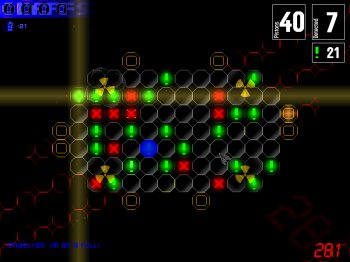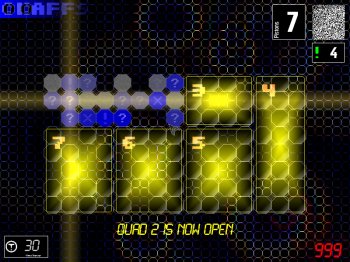 This game comes with seven modes of play and a ton of replay value...I hope you enjoy it! You can download the 20-level demo along with a YouTube trailer and more screens right here:
http://www.vertigoga.../shellblast.htm
The full version includes:
Classic Mode-
Play the fifty-level campaign as you tour the world defusing bombs. From prank bombs to nuclear superweapons, this mode will give you the grand tour of what ShellBlast is all about.
Simulation Chamber-
Choose from eighteen empty bomb shells and fill it to your specifications. Want a massive Biological bomb with a short timer? Or a small Oxidation bomb with plenty of extra helper tools like Chaff Grenades? You got it!
Blast Editor-
Simulation Chamber too limiting for you? Build your own bomb from scratch using the editor or play custom levels built by others. Create the ultimate superweapon!
Endurance Mode-
Take on this massive bomb one layer at a time. How many quadrants can you unlock?
Shell-Drop-
A unique randomly generated bomb mode that puts you to the ultimate test. Can you beat the top ranking bomb solvers? This mode is almost a game in itself!
Puzzled-
Take on the bomb from another angle…this time, using preset grids and an unlimited timer. Only true masterminds can solve the harder challenges...

Nuke-
Team up with another agent working on the field to tackle one of the hardest bombs in the game!
The full game retails for $19.95 and can be found on the linked page.
Let me know what you think! Oh, and a big thanks to Ravotus and his GMCap program. Another thanks to all who participated in the beta...couldn't have done it without ya!
Edited by Mr.Chubigans, 21 October 2007 - 11:54 PM.