A description would be going against the concept of this game. You have to figure everything out on your own, even the controls (
although you only use the mouse
). How to make progress is up to you to discover!
I've spent a lot of work on this game, so please give it a real chance. There is a very deeply hidden thought behind it that some of you might be familiar with. I think you'll have a hard time finding out what it is, though...
UPDATE 07/08/06
-Select your own color, play in B&W or in a multi-colored version
-Re-arranged the rooms a bit to make it a bit easier to get into
-Tried to fix the break-out bug once and for all.
Screenshots
(looks
a lot
better when in motion):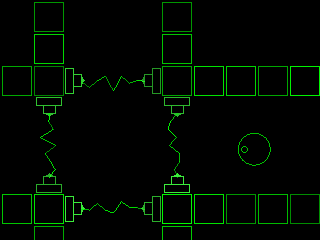 Illegal Communication in the default green color
And here in a new "neon" colored version
Download
(1,32 meg, fullscreen, changes resolution
)
Mirror
PLEASE EXTRACT BEFORE PLAYING!!!
Walkthrough
<- (Don't use unless you have to!)
The game is in the current cage match, feel free to support it by voting for it if you liked it
Thanks to Ghidorah for the lovely music!
Edited by cactus, 18 September 2007 - 09:43 AM.