SUPERSOLDAT

- Now open source!
Supersoldat is a "character driven" platform game - it's all about the cool things the character can do, and he can do a lot of cool things. The game is unconventional as platform games go because you have extremely limited control of your character's movement while he is airborne - in this sense it is similar to Prince of Persia or the Abe games: to jump you need a run up - likewise for a flying kick to be effective, you need to be
flying
!
In the tradition of Another World, Prince of Persia and the Abe series, there is a reasonable amount of violence in this game, albeit 16x16 pixel violence.
VERSION 7.3 FEATURES (17 exciting levels):
-Run, sneak, crouch, roll, climb, rebound, jump, hang and fight your way through 17 rooms
-Combat 6 very different enemies and defeat a challenging boss
-Use 2 types of grenade, your fists and the environment
-Perform 7 different combat attacks or use stealth and break some necks
-Save-points, title screen, buttons, key cards and doors to crush enemies with!
-Realistic swimming: crawl, tread-water, frog-kick, etc!
Head over to the game's new homepage for a download link.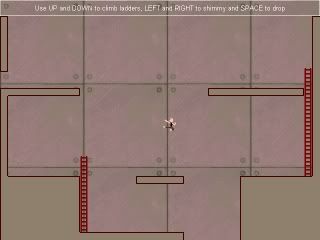 Supersoldat is made almost entirely using Drag and Drop - I've now switched to other projects in full GML (far less messy) so I've released the source code: you can find the new topic on the Open Source Forum!
Supersoldat OPEN SOURCE
William
Edited by Wilbo, 20 June 2010 - 11:53 AM.