UPDATE: I found my USB key up against the baseboard under my bed
. Anyway, I was rebuilding the game engine, and this is the updated, slightly more efficient source. In addition, there is a more robust cannon engine. I'm releasing this source as-is, but if you have any questions, feel free to post them. Do what you wish with it! If you do use a part of the engine, be sure to put a line of thanks in your game info.
Download the source here
-------------------------------------
Some of you might remember Antietam, an RTS I made for school last year. Well, I thought I might like to complete it.
Cloak and Dagger Games
, in collaboration with
xlilwill5x
, proudly presents:
THE CIVIL WAR,
a battlefied tactics RTS
File size:
2.9 MB
File type:
.zip/.exe
Changes Screen Resolution:
No
Version GM Used:
v 6.1, reg
This is an RTS that will recreate many of the historic battles of the Civil War. Its main engine doesn't revolve around unit upgrades and building construction (this IS the Civil War); rather, you must utilize successful battlefield tactics to defeat your opponent.
Basic controls are:
Left Click to select units
1, 2, and 3 to select movement option (1=Go to point, 2=form line, 3=March)
Ctrl to see unit's range
Shift to select multiple units
Q to retreat
O and P jump to previous and next levels, respectively
B, N, and M adjust options in the options menu
Blue Squares represent high ground
You can hit F1 during gameplay to bring up the game information console.
New screenshots: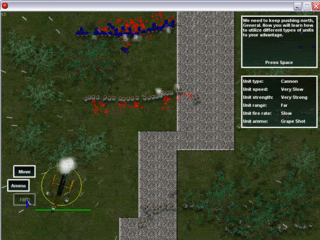 Right now a lot of the GUI's are not user-friendly, but I will change this later.
This game is very comp hungry!
Some suggestions on speeding up the gameplay:
1) Exit out of any other programs before running The Civil War RTS
2) Run the game in full screen mode
3) Change the graphics options in the options menu
You can download demo 7 here:
The Civil War RTS
Mirrors
:
Civil War RTS Mirror 1 (.zip)
Civil War RTS Mirror 2 (.zip)
Forgot to include the text files with the download. Sorry! You can grab them here:
http://www.uploadtem.../1154350163.txt
http://www.uploadtem.../1154350207.txt
You need both files. Just make sure to save them in the game directory.
Please posts any criticisms or suggestions you might have.
Thank you,
Brian Dolhansky
Edited by Qwertyman, 27 March 2008 - 06:47 PM.